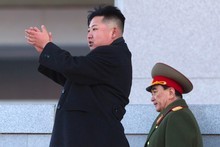 Mar. 1.─ North Korea has agreed to suspend uranium enrichment and nuclear and long-range missile tests in a breakthrough in negotiations with the United States, which is set to provide food aid in return.
The rare simultaneous announcements Wednesday by the two longtime adversaries could clear the way for resumption of multi-nation disarmament-for-aid talks that the North withdrew from in 2009.
Coming just over two months after the death of longtime ruler Kim Jong Il, it signals a willingness by the secretive government under his untested youngest son, Kim Jong Un, to improve ties with the U.S. and win aid.
Read more ...