«There are good reasons to question the Russian armed forces' ability to seize and hold the portions of Donetsk and Luhansk oblasts that it does not currently control», reports the Institute for the Study of War with HQ in Washington, DC.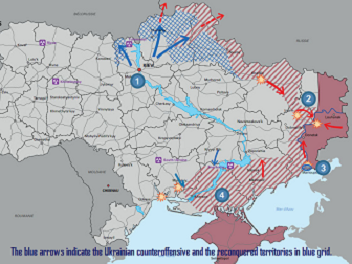 Washington DC, Apr. 9.– We assess that the Russian military will struggle to amass a large and combat-capable force of mechanized units to operate in Donbas within the next few months. Russia will likely continue to throw badly damaged and partially reconstituted units piecemeal into offensive operations that make limited gains at great cost. The Russians likely will make gains nevertheless and may either trap or wear down Ukrainian forces enough to secure much of Donetsk and Luhansk Oblasts, but it is at least equally likely that these Russian offensives will culminate before reaching their objectives, as similar Russian operations have done.
The US Department of Defense (DoD) reported on April 8 that the Russian armed forces have lost 15-20 percent of the "combat power" they had arrayed against Ukraine before the invasion. This statement is somewhat (unintentionally) misleading because it uses the phrase "combat power" loosely. The US DoD statements about Russian "combat power" appear to refer to the percentage of troops mobilized for the invasion that is still in principle available for fighting—that is, that are still alive, not badly injured, and with their units. But "combat power" means much more than that.
Read more ...