John Sipher, who served for decades as a senior operations officer at the CIA, had signed a letter in 2020 calling the allegations against Hunter Biden pure disinformation regarding the evidence found in Hunter Biden's laptop.

The 51 signatories of that letter refuse to apologize for discrediting the true Hunter Biden story. 
Washington DC, Apr.2 (DP.net).– Even now that everything on that laptop is coming to light, John Sipher brags in a recent post on Twitter saying that "I take special pride in personally swinging the election away from Trump".
On their part, the 51 signatories of the 2020 open letter are former members of the supposed nonpartisan group of top CIA operatives –or top spies– looking out for the best interest of the nation. However, they sowed doubt knowing the material evidence was true. Among them shines the popular figure of CNN pundit and professional journalist James Clapper who signed the letter publicly saying that the laptop "has the classic earmarks of a Russian information operation."
The letter was at the core of a story from the "Politico" framework that claimed the New York Post story about the laptop was "Russian disinformation." Furthermore, former National Intelligence Director James Clapper claimed The New York Post's Hunter Biden exposé was "a Russian information operation." However, while the FBI picked up the computer and a hard drive from the store's owner, the bureau's apparent inaction in probing the matter prompted the store owner to pass on a copy of the hard drive to an attorney representing former New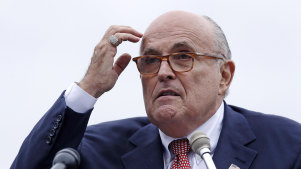 Rudy Juliani York Mayor Rudy Giuliani, who, in turn, passed it to the New York Post. The computer repair shop owner explained that when no one returned to pick it up, he searched the hard drive and found information that could be incriminating to Hunter Biden and politically damaging to his father. Thus, he called the FBI.
Read more ...