London, Dec.5 (DPnet).– UK Ministry of Defence believes 80,000 Russian soldiers are wounded or dead, while the US now believes that figure to be well over 100,000. On the other hand, up to 13,000 Ukrainian soldiers have been killed since Russia invaded in February, according to Kyiv's presidential adviser Mykhailo Podolyak. However, Ukrainian casualties are increasing at this point and authorities report that between 100 and 200 of its forces are dying a day on the battlefield during the recent counteroffensives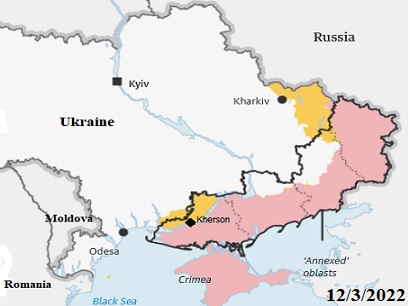 (shown in yellow on the map).

The Russians fled from the Kherson region, across the river, going northeast along the river to the bridges upstream. The Ukrainians followed behind them and tried to cut them off before they could cross the river, causing many casualties of personnel, armored vehicles and other war materials.

That 100,000 number of casualties by the US estimate will increase over the next few days after Russian troops are totally expelled from Kherson city and its surroundings, including the Russian-occupied town of Kakhovka, on the east bank of the Dnipro River. We're seeing the Russian Dunkirk and the Ukrainians are trying to beat them "to the beach" i.e. up to the Black Sea.
Read more ...