The suspect, a 21-year-old member of the intelligence wing, has been detained and appeared before a Boston court.
Boston, Apr.14 (DP.net).– Pentagon leak suspect Jack Teixeira was reading a book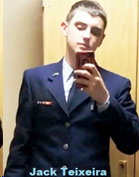 on a porch when FBI agents showed up to arrest him. He was arrested in connection with the recent leak of secret military information and has appeared in a Boston court for allegedly leaking confidential US defense and intelligence documents. The FBI arrested the 21-year-old at his home in Massachusetts, and he is expected to be formally charged today.
Teixeira, whose identity was first reported by The New York Times on Thursday, is believed to be the leader of a private group on the gamer messaging platform Discord called Thug Shaker Central, according to reporting from The Washington Post. He worked in the 102nd Intelligence Wing of the Massachusetts Air National Guard.
The defense and intelligence files leaked on the gaming platform Discord caused panic among top US officials who initially tried to cover up declaring that they were fake. At least 50, but perhaps more than 100, secret documents were posted on the platform – including sensitive information about the war in Ukraine.
A Discord account holder believed to be connected to Teixeira expressed concern to another chatroom user that he could be discovered making transcriptions of classified text in the workplace.
In an interview with the FBI, the user alleged that he spoke to the suspect various times over video chat, voice calls, or the chat function. According to the user, the suspect "began taking the documents to his residence and photographing them".
Pentagon Press Secretary Air Force Brig. Gen. Pat Ryder was asked at a press conference on Thursday for more information on the mission of Teixeira's unit, Ryder said: "In general, intelligence wings throughout the Air Force support what you might imagine — Air Force intelligence requirements worldwide to support a variety of types of intelligence missions and requirements, which include active guard and reserve components."