London, Dec.5 (DPnet).– UK Ministry of Defence believes 80,000 Russian soldiers are wounded or dead, while the US now believes that figure to be well over 100,000. On the other hand, up to 13,000 Ukrainian soldiers have been killed since Russia invaded in February, according to Kyiv's presidential adviser Mykhailo Podolyak. However, Ukrainian casualties are increasing at this point and authorities report that between 100 and 200 of its forces are dying a day on the battlefield during the recent counteroffensives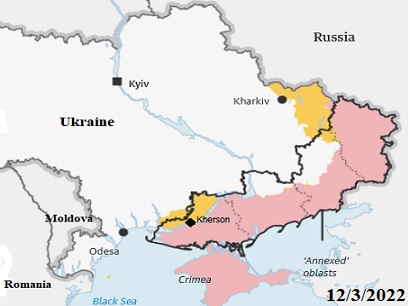 (shown in yellow on the map).

The Russians fled from the Kherson region, across the river, going northeast along the river to the bridges upstream. The Ukrainians followed behind them and tried to cut them off before they could cross the river, causing many casualties of personnel, armored vehicles and other war materials.

That 100,000 number of casualties by the US estimate will increase over the next few days after Russian troops are totally expelled from Kherson city and its surroundings, including the Russian-occupied town of Kakhovka, on the east bank of the Dnipro River. We're seeing the Russian Dunkirk and the Ukrainians are trying to beat them "to the beach" i.e. up to the Black Sea.
If they succeed, this could be the game changer that might force Putin to negotiate.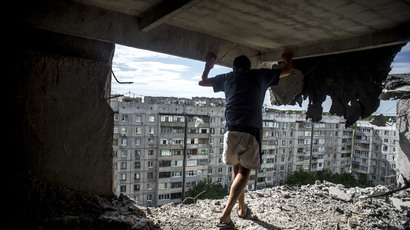 Apartment building destroyed by Russian missilesHowever, Russian forces launched in desperation a wave of fresh missile strikes on Monday, killing civilians in the central Ukrainian city of Kryvyi Rih and in the southeastern Zaporizhzhia region (close to the nuclear plant), according to local authorities. Therefore, Ukrainian authorities in Kherson have urged people on the east of the Dnipro River to evacuate. Unfortunately, Russian missiles are also attacking the country's museums, libraries, and other cultural institutions, in addition to hospitals, schools, and apartment houses, according to a report issued by the international writers' organization PEN.
In addition, Russians have been accused of deporting throughout the war Ukrainian children to Russia or Russian-held territories to raise them as their own. At least 1,000 children were seized from schools and
Ukrainian people living in basements like this in regions far fron the front linesorphanages in the Kherson region during Russia's eight-month occupation of the area, say local authorities. Their whereabouts are still unknown. But residents say even more children would have gone missing had it not been for the efforts of some in the community who risked their lives to hide as many children as they could.

At the same time, the Kremlin says the US and Ukraine's refusal to recognize Moscow's annexed territories in Ukraine is hindering any potential settlement. Putin refuses to enter negotiations to achieve a peaceful settlement.