Dublin, June 16.– The 2022 Global Forum "Higher Education Leadership for Democracy,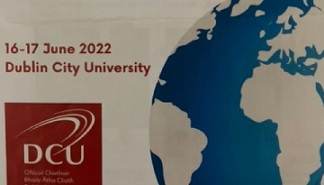 Sustainability and Social Justice" organized by the Council of Europe in co-operation with the International Association of Universities, International Consortium for Higher Education, Civic Responsibility and Democracy, Organisation of American States opened in Dublin today on the premises of the Dublin City University. The Forum gathered over 120 participants from all continents.
In his opening statement, Matjaž Gruden, Director for Democratic Participation of the Council of Europe, stated that "knowledge and critical thinking are the driving force of progressive change. Always had been. Always will be."
"This is why higher education is an essential part of the democratic infrastructure. One of the cornerstones of a society based on the values of humanity, knowledge, openness, curiosity, innovation, respect for individual rights and freedoms and human dignity and sense of responsibility for community and solidarity for other people. And this is why authoritarians fear and loath its independence and autonomy".
Simon Harris, the Minister for Further and Higher Education, Research, Innovation and Science, said in his keynote speech: "Democracy is complex ..."
[ Full text ]