On June 1, 100 days will have passed since the beginning of the Russian invasion of Ukraine with the obvious failure of the aggressor in his operational plans, thus unleashing a desperate scorched earth tactic aimed at totally destroying Ukraine and subjecting it to a frightful genocide.
DP.net.– This is the prevailing situation as of May 30, 2022: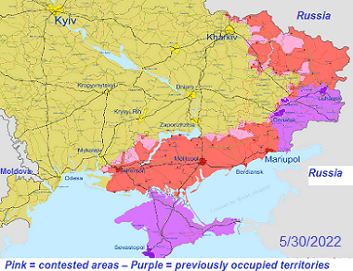 Klitschko: Since February 24, Russian forces have killed 120 Kyiv civilians and injured 300 more. Kyiv Mayor Vitali Klitschko announced in Davos that 16 children had been hospitalized in critical condition in the Ukrainian capital, and four of them died in the last two months of Russia's full-scale invasion.
In Donbas, Ukraine's military has repelled 12 Russian attacks last week. On May 26, Russian forces fired on some 50 communities in the Donetsk and Luhansk autonomous regions, killing nine civilians, injuring 14, and destroying 60 civilian infrastructures, according to Ukraine's Operational Tactical Group "East."
Russia's war has killed 240 children and injured 436, according to the Prosecutor General's Office. The estimates are likely to be higher because they exclude child casualties in areas where hostilities are still ongoing and in Ukraine's temporarily Russian-occupied regions.
Since February 24, Russia has lost 30,150 troops in Ukraine. Russia also lost 1,338 tanks, 3,275 armored vehicles, 2,240 vehicles and fuel tanks, 631 artillery pieces, 201 multiple launch rocket systems, 93 surface-to-air missiles, 174 helicopters, 206 airplanes, 504 drones, and 13 boats (including a Navy Cruiser and two other large Navy vessels), according to a May 29 report of the General Staff.
Russian forces continue to shell Kharkiv's residential structures, killing nine people. On May 26, Russian troops shelled the Shevchenkivskyi, Kyivskyi, Pavlove Pole, Kharkivskyi, and Bohodukhivskyi areas, killing nine civilians and wounding 19, including a nine-year-old kid and a five-month-old baby, according to Kharkiv Oblast Governor Oleh Synehubov. At this time, an intense Russian shelling is pounding the key city of Sievierodonetsk in embattled Luhansk, but Ukrainian forces are not withdrawing while street battles rage. Russian attempts to start assaulting nearby Sloviansk are so far unsuccessful in their goal to encircle Ukraine's forces.
Meanwhile, medical workers pull out ramps and wheel the patients onto the specially equipped train that will carry them westwards from Pokrovsk and other Eastern localities, away from the fighting raging in eastern Ukraine. Run by Medecins Sans Frontieres (Doctors Without Borders), the train is a lifeline for the overwhelmed hospitals in cities and towns near Ukraine's front lines that are struggling to cope with an influx of war-wounded on top of their usual flow of sick patients. Since it started running on March 31, the train has ferried nearly 600 people to hospitals in safer areas of western Ukraine.
On the Russian side, according to Ukrainian intelligence, "in order not to lose equipment, commanders of logistics units of occupying troops are prohibiting drivers from evacuating the wounded and bringing food and fuel to forward units ... it has turned out that the entire Russian logistics system cannot meet the needs of a significant number of troops located more than 100 km away from its border."
With commendable unprecedented daring President Volodymyr Zelensky visited the front line positions of the Ukrainian military and met with soldiers during a trip to the Kharkiv and Donbas regions, and vowed that Ukraine will "take everything back" from Russia. He also chaired a meeting with regional officials, including military leaders.
On the international stage, the US has rejected Russia's offer to open Ukrainian ports in exchange for sanctions relief. Russia's offer to free Ukrainian ports in exchange for the easing of sanctions was dismissed by US State Department spokesperson Ned Price as "empty promises ..." "Ending Russia's horrific war is the quickest solution to reverse rising raw material prices and rising food prices around the world," Price added. Democratic countries continue to waver over the volume and quality of their military assistance and the US will not send Ukraine MLRS capable of striking targets deep in Russia, Biden said, raising concerns about future defense support.