► The lifeless bodies of at least 20 civilian men line a single street in the town of Bucha near the Ukrainian capital. Some lie face down on the pavement while others are collapsed on their backs, mouths open in a tragic testament to the horrors of Russian occupation.
► The hands of one man are tied behind his back with a piece of white cloth. Another man lies alone, tangled up in a bicycle by a grassy bank. A third man lies in the middle of the road, near the charred remains of a burned-out car.
► The shocking images of the carnage in Bucha were captured by Agence France-Presse on Saturday, the same day Ukraine declared the town liberated from Russian troops.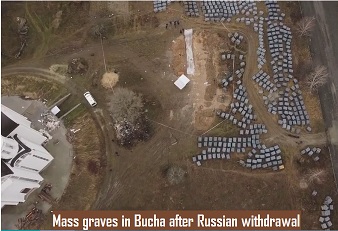 Bucha, Apr.11.– The town of Bucha captured the world's attention with its images of horror. They gave a glimpse into the terrible consequences of a conflict prosecuted without limits.
Today the drive into Bucha looks very different to those first hours after it was liberated.
A gruesome video showing the bodies of civilians left decomposing where they fell, was the first indication of the war crimes perpetrated here.
Now, new atrocities are being uncovered every day across areas occupied by the Russians. ITV News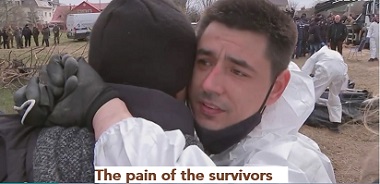 decided to investigate three separate war crimes, which are representative of the senseless killing meted out in so many towns and cities by Putin's army.
Putin should face 'war crimes trial' after Bucha killings
[ See video and read full text ]