70% of the 5 million Central African Republic population identifies as Christian, including 34% Catholics and 30% Evangelical Christians. The remainder 30% of the populace are predominantly Sunni Muslims with many still practicing animistic tribal beliefs.
Bangui, Dec. 17 (DP.net).– Christians who actively share their faith suffer intense violence at the hands of Muslim rebels.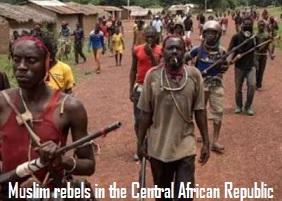 A coalition of Islamic rebel groups –known as Seleka– operating from the northern part of the Country succeeded in 2013 in ousting the Central African Republic president, but soon splintered into multiple groups with differing agendas. However, they have regrouped and added other groups who were not part of the coup.
They are raping women, burning people alive and, in general, pursuing Christians and killing as many as they could. For many Christians, survival is still a struggle inside the Internally Displaced People (IDP) camps where some 600,000 persons live.
As if this atmosphere of terror were not enough, a new violent group named Fulani Islamic, also known as 3R (Return, Reclaim & Rehabilitate) has formed in the Western part of the country and has been operating since 2019. This group's stated goal is to protect Muslim Fulani, but in practice they merely exploit the Fulani, even threatening them if they are not efficient in their attacks on Christians. 
The 3R compels local Fulani to identify Christians and attack the believers. Thus, the Fulani destroy Bibles and musical instruments used for worship, burn down churches, and often kill believers. Furthermore, the 3R also carries out its own attacks on Christians. In attempts to islamize Christian villages, the group has destroyed dozens of churches and houses belonging to believers and tens of thousands of people have been displaced by violent attacks during the last three years.
To make the situation even worse, the military intervention of the French army since the 2013 coup intended to reestablish peace in the country ended last June. France has cut 10 million euros ($12.18 million) in budget support for its former colony and stopped direct military cooperation, the armed forces ministry informed early in June.
Meanwhile, a U.N. peacekeeping mission and a European Union training deployment will remain unaffected, but soldiers working directly for the French military will no longer cooperate with the Central African Republic's military, according to the ministry, while Russia has deployed several hundred military instructors this year.