Senator Richard Blumenthal (D-Connecticut) has just raised the stakes for a Democratic Party that doesn't want to be branded as Socialist. He not only attended an awards ceremony hosted by the Communist Party USA, but he was the keynote speaker.
New Haven, Dec. 15 (DPnet).– Sen. Blumenthal appeared last Saturday at the Amistad Awards ceremony, sponsored by the Connecticut People's World Committee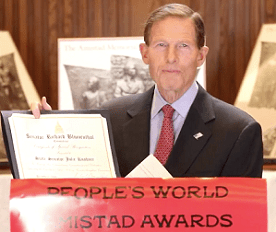 (CPWC), a political organization affiliated with the Communist Party USA, to hand out special recognition certificates from the U.S. Senate to three individuals. The CPWC hosted the ceremony on the 102nd anniversary of the founding of the Communist Party USA. With Senator Blumenthal appeared State Senator Julie Kushner (D-Danbury) and Pastor Rodney Wade of Waterbury, a long-term supporter of the Democratic Party.
In his keynote speech, Blumenthal said he was "excited and honored" to speak at the awards ceremony for the Connecticut People's World Committee, an open Communist Party affiliate. Indeed, the event celebrated the 102nd anniversary of the Communist Party USA (CPUSA) as it explicitly aimed to recruit new CPUSA members.
Among prominent Communist Party members attending the event, another speaker, Ben McManus, urged: "We invite you to join the Communist Party in this epic time as we make good trouble to uproot systemic racism, retool the war economy, tax the rich, address climate change, secure voting rights and create a new socialist system".
In his speech, Blumenthal stressed: "There's a lot to be working for in economic justice, in racial equity", and he centered his speech on "holding corporations accountable for the basic treatment of the American people." Furthermore, he blithely presented certificates of special recognition to the night's three "Amistad Award" winners, insisting they "honor the great tradition of activism and standing up for individual workers."
Blumenthal's exposure in favor of this extremist and undemocratic ideology is surprising considering that he is one of the wealthiest US senators with a declared fortune of well over US$100 million. Nevertheless, one of his major investments includes a real estate development company connected to the Chinese government, the U.S. Shanghai LLC., which is listed on his annual financial disclosure.
With the exception of Fox News, OAN, or the New York Post, none of the other major media organizations in the United States, CNN, CNBC, CBS, The New York Times, the Washington Post, etc., etc., has reported this event.