The Pandora Papers's 11.9 million records arrived from 14 different offshore services firms in a jumble of files and formats – even ink-on-paper – presenting a massive data-management challenge.
The 336 politicians and dignitaries exposed are from more than 90 countries and territories.
By Emilia Díaz-Struck, Delphine Reuter, Agustin Armendariz, Jelena Cosic, Jesús Escudero, Miguel Fiandor Gutiérrez, Mago Torres, Karrie Kehoe, Margot Williams, Denise Hassanzade Ajiri and Sean McGoey.


OCT. 3.– A 2.94 terabyte data trove exposes the offshore secrets of wealthy elites from more than 200 countries and territories. These are people who use tax and secrecy havens to buy property and hide assets; many avoid taxes and worse. They include more than 330 politicians and 130 Forbes billionaires, as well as celebrities, fraudsters, drug dealers, royal family members and leaders of religious groups around the world.
The International Consortium of Investigative Journalists spent more than a year structuring, researching and analyzing the more than 11.9 million records in the Pandora Papers leak. The task involved three main elements: journalists, technology and time.
What is the Pandora Papers?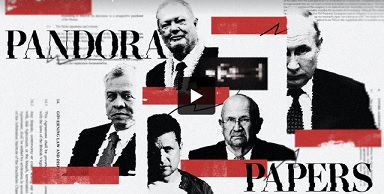 The Pandora Papers investigation is the world's largest-ever journalistic collaboration, involving more than 600 journalists from 150 media outlets in 117 countries.
The investigation is based on a leak of confidential records of 14 offshore service providers that give professional services to wealthy individuals and corporations seeking to incorporate shell companies, trusts, foundations and other entities in low- or no-tax jurisdictions. The entities enable owners to conceal their identities from the public and sometimes from regulators. Often, the providers help them open bank accounts in countries with light financial regulation.
(...)
[ Full text ]