Richard Hayden Black says communism is spreading at a 'breakneck pace,' seizing power by creating divisions.
We are in a situation today where the communists back when I was in college realized that the fissure in American society was a racial one. And they've worked very hard to exploit that. And at the same time, they recognize that to collapse society and bring about a communist revolution, they have to also take out all of the moral underpinnings of society. And this is what we see being done".– said former Senator Richard Hayden Black.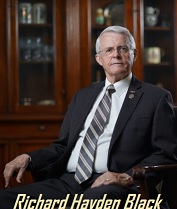 Sept. 21.– A Vietnam War veteran and former Virginia state senator is at the center of a new battle: pushing back on domestic communism in the United States.
After 16 years in the Virginia House of Delegates and Virginia Senate, Sen. Richard Hayden Black withdrew from the office in 2020, but not the community. On June 22, he spoke at a school board meeting in his county of residence, Loudoun County.
The county is west of Washington, D.C., where liberal-leaning northern Virginia and the more conservative parts of the state meet. It has become ground zero for the fight against critical race theory (CRT), a variation of Marxism that interprets society through the lens of racial class struggle and sees inherent racism in the foundations of Western societies.
Black's self-introduction caused a stir in the crowd. A sense of respect and anticipation arose in the air. People knew him and burst into louder and louder cheers as he criticized school board members for suppressing freedom of speech by encouraging an enemies list to punish CRT opponents.
He moved on to condemn the proposed transgender policies, which allow boys who self-identify as girls to use girls' bathrooms and locker rooms. The crowd cheered more, and many stood up to express their agreement.
Immediately, the school board members voted to end the public comment period and retreated from the dais ...
[ Full text ]