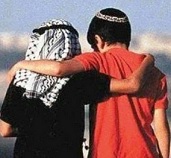 Friends: Muslim & JewIn an atmosphere of conviviality and brotherhood, several members of the Moroccan Jewish community celebrated, Monday evening in Casablanca, with their fellow Muslims, Rosh Hashanah which marks the beginning of the Jewish new year.
Casablanca, Sept. 7.– A ceremony was organized at the synagogue Neve Shalom, at the initiative of the association Marocains Pluriels, marked by the participation of several young Moroccan Muslims, who offered on this occasion kosher cakes to their Jewish brothers and sisters "as a sign of good wishes for the New Year".
For his part, and as tradition dictates, the rabbi of the synagogue Neve Shalom of Casablanca, Jacky Sebag, offered, in return, jars of honey to the Muslim guests.
Referring to the scope of this initiative, Rabbi Sebag stressed, in a statement to MAP, that it is "quite special and virtually unique in its kind" in that "this is the first time that an association, namely Marocains Pluriels, offers the Jewish community a gift on the eve of Rosh Hashanah".
(...)
[ Full text ]