The Cuban government has cut off access to numerous social media and messaging apps in what appears to be an attempt to disrupt the organizing efforts of anti-government protesters.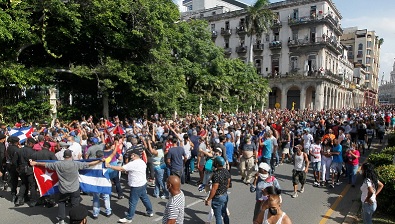 Havana, July 12 (DP.net).– Access to Facebook, WhatsApp, Instagram, and Telegram was denied by the Cuban government as protests that began on Sunday continued to spread throughout the country.
Curiously, access to Twitter has been allowed to continue unfettered.
Cuba's coronavirus infection numbers broke records last week, with the country reporting 6,750 cases and 31 deaths. Members of the country's opposition party claim the numbers are much higher. Rising coronavirus cases paired with a scarcity of medicine and lack of access to a vaccine have left the country reeling.
In the middle of recent protests, an Associated Press reporter was attacked by Cuba pro-government protesters. The Associated Press reported that he was assaulted violently and his camera was broken.
Another journalist, also an AP photographer, was reportedly injured by Cuban police. AP reporters also noted that police in plainclothes abducted protesters and left with them in unmarked vehicles.
State violence in Cuba against dissidents has been on the rise since last year as economic conditions in the country have worsened.
The Armed Conflict Location & Event Data Project tracked state violence against protesters and found an increase in incidents since at least last October.
[ See ACLED report ]