The rallies, widely viewed as astonishing for a country that limits dissent, were set off by economic crises worsened by the pandemic.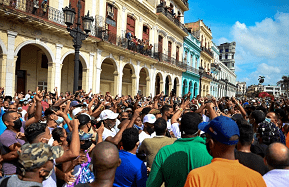 Havana protests - July 11, 2021 Miami, July 11.– Shouting "Freedom" and other anti-government slogans, hundreds of Cubans took to the streets in cities around the country on Sunday to protest food and medicine shortages, in a remarkable eruption of discontent not seen in nearly 30 years.
Hundreds of people marched through San Antonio de los Baños, southwest of Havana, with videos streaming live on Facebook for nearly an hour before they suddenly disappeared. As the afternoon wore on, other videos appeared from demonstrations elsewhere, including Palma Soriano, in the country's southeast. Hundreds of people also gathered in Havana, where a heavy police presence preceded their arrival.
"The people are dying of hunger!" one woman shouted during a protest filmed in the province of Artemisa, in the island's west. "Our children are dying of hunger!" 
Havana protests - July 11
One clip circulating on Twitter showed protesters overturning a police car in Cardenas, 90 miles east of Havana. Another video showed people looting from one of the much-detested government-run stores, which sell wildly overpriced items in currencies most Cubans do not possess.
In a country known for repressive crackdowns on dissent, the rallies were widely viewed as astonishing ...
[ Full text ]