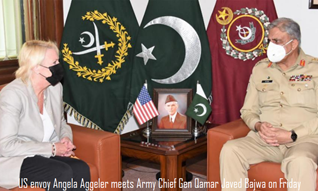 Islamabad, May 29.– United States envoy Angela Aggeler on Friday met Army Chief Gen Qamar Javed Bajwa to continue bilateral discussions on post-withdrawal Afghanistan and the peace process.
"During the meeting, matters of mutual interest, overall regional security situation, including recent developments in Afghan peace process, and bilateral cooperation in various fields were discussed," Inter-Services Public Relations (ISPR) said in a statement.
The meeting between the US chargé d'affaires and the army chief was part of the ongoing engagement between the two countries on Afghanistan.
Several high-level contacts have taken place between the two sides in the past fortnight starting with a telephone conversation between US Secretary of State Antony Blinken and Foreign Minister Shah Mahmood Qureshi.
(...)
[ Full text ]