The Epoch Times
Visto: 172
A group known as "the Quad", including Australia, India, Japan and the US, met in
Tokyo on March 12, and is now reaffirming its intention to expand the group with the admission of other countries in the region.
Seoul, May 21.– With the rising threat from communist China in the Indo-Pacific region, the Quadrilateral Security Dialogue between the United States, Japan, India, and Australia has become increasingly important. Cooperation among its members has gone beyond economy, military, and supply chains. And the United States and Japan are also winning over more countries to join the Quad or participate in joint military exercises.
Today, May 21, Joe Biden met South Korean President Moon Jae-in at the White House, Biden's second face-to-face summit with a foreign leader since his meeting with Japanese Prime Minister Yoshihide Suga in April.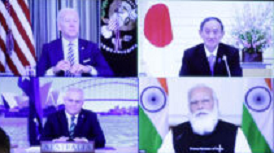 This highly anticipated summit signals how important South Korea is to Biden's Indo-Pacific strategy. According to Forbes, Seoul is likely to become an addition to the Quad.
Shortly after the Biden administration took office, White House national security adviser Jake Sullivan indicated that the new administration would continue the Quad mechanism. White House Indo-Pacific Affairs Coordinator Kurt Campbell also said in January that the United States should expand the Quad and focus on military deterrence to China.
(...)
[ Full text ]