The Epoch Times
Visto: 178
Tel Aviv, May 19.– Israel fired artillery at targets in Lebanon on Wednesday after four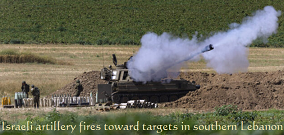 rockets were launched toward Israel from Lebanese territory, the Israeli military said.
Israel's missile defenses intercepted one of the projectiles and "the rest most likely fell in open areas," the military said. The rockets caused air raid sirens to blare in the northern Israeli city of Haifa and areas to the east.
Security sources in Lebanon confirmed that four rockets had been launched towards Israel from Seddiqine, a village in the region of Lebanon's southern coastal city of Tyre.
It was not immediately clear who had fired the rockets, and there were no reports of damage on either side.
An Israeli soldier inspects damage to an apartment in a residential building after it was hit by a rocket fired from the Gaza Strip."
[ Full text ]