Democracia Participativa
Visto: 172
March 17 (DP.net).– On 7 July 2018, U.S. Secretary of State Mike Pompeo, Japanese Foreign Minister Taro Kono and South Korean Foreign Minister Kang Kyung-wha met in Tokyo where they reaffirmed their unity in urging North Korea to denuclearize as promised. The ministers stressed the need to call on North Korea to take concrete steps toward denuclearization and to keep existing U.N. economic sanctions in place. President Trump repeatedly warned that the military option remained on the table if North Koreans persisted in developing nuclear weapons. North Korea had since suspended all its nuclear tests.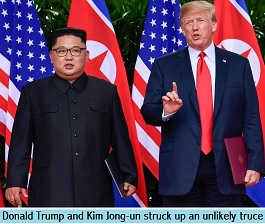 However, Kim Jong-un ignores Biden as North Korea snubs 'multiple diplomatic attempts' and restarts its development. North Korea has unveiled two new weapons over the last few months, a new submarine launched missile and the nation's biggest ever ICBM, the Hwasong-16, the largest road-mobile ICBM in the world, with a range, at around 13,000km, enough to cover the whole of the United States. Kim is expected to use a renewal of nuclear weapons testing as a way to taunt Biden, in the same way he did with Barack Obama a few years ago.
Biden's Administration behind the scenes approach with North Korea has since received no response. A senior official in the administration told Reuters that there had been efforts to reach out to North Korea "through several channels starting in mid-February, including in New York. To date, we have not received any response from Pyongyang."
Earlier this year, the Council on Foreign Relations said that Kim's quest for nuclear weapons is the most dangerous issue currently facing the world.
Tensions between North Korea and the US seemed to ease over the past few years, as Kim struck up an unusual truce with former President Donald Trump. This truce seems to be over.