The Bristol Cable
Visto: 188
Sixty Bristol citizens have released their recommendations
on climate, health and transport.
Participants share their insights
from this pioneering process of public participation.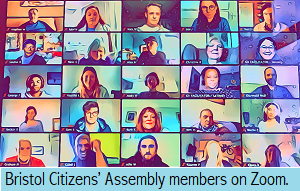 Bristol, March 13.– On a sunny Saturday in late February, dozens of people from across Bristol squint at Zoom on their screens. Their task? Produce recommendations for how Bristol can reduce the impact of our homes on the climate crisis – and contribute to the city's pledge to be carbon neutral by 2030. No pressure then.
This was the penultimate weekend of the climate strand of Bristol's first ever citizen's assembly – an exercise in participatory democracy where local people come together to tackle our biggest issues.
Over four weekends from January, a demographically representative selection of 60 Bristol citizens have met to discuss how the city can recover from Covid-19, with a focus on three topic areas: climate, transport and health.
Today, they have released their recommendations, which will be presented to the council's cabinet and One CIty Economy Board to hopefully inform council policy.
(...)
[ Full text ]