Democracia Participativa
Visto: 214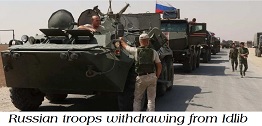 March 2 (DP.net).– Russia has withdrawn its forces from the city of Saraqib in the suburbs of Idlib, northern Syria, without previously announcing any plan to do so, local media outlets reported.
The Orient Net website quoted "unnamed" sources as saying that the Russian forces "suddenly" withdrew from the city of Saraqib towards the city of Maarat. Other sources added that a number of Russian military tanks and vehicles, in addition to artillery and missile firing systems have also withdrawn from Saraqib.
Turkey rejects the presence of Russian forces in the area and has declared its support for Iblid's rebels. The tense situation worsened when the Jabhat al-Nusra rebel group shelled Syria's Idlib de-escalation zone 23 times over the past 24 hours, Rear Adm. Alexander Karpov, deputy head of the Russian Defense.
In the meanwhile, criminal Inquiries loom over al-Assad's use of Chemical Arms in Syria. Investigations in France and Germany could lead to prosecutions of President Bashar al-Assad and members of his upper echelon on charges of war's atrocities and crimes against humanity.