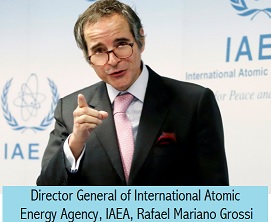 Vienna, Mar.2.– Signs of activity have recently been detected at some North Korean nuclear facilities, the UN nuclear watchdog chief said Monday, expressing "serious concern" at the reclusive regime's continued activities.
Rafael Grossi, director general of the International Atomic Energy Agency, told the board of governors that there was evidence that the regime has continued construction at an experimental light-water reactor at its main Yongbyon nuclear complex, including testing of the infrastructure for cooling water in late 2020.
He added that while there were no signs of producing enriched uranium at the reported centrifuge enrichment facility at Yongbyon, there are ongoing indications of activity at another facility in Kangson, just outside of Pyongyang.
The Kangson site has long been suspected as the regime's clandestine facility for uranium enrichment, or fuel for nuclear bombs. But 38 North, a US-based North Korean monitoring website, reported in December that Kangson may not be a uranium enrichment plant, but is dedicated to producing related components for enriching uranium.
(...)
[ Full Text ]