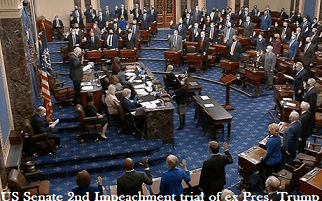 Washington DC, Feb.12.– Former President Donald Trump's lawyers in his unprecedented second impeachment trial closed their defence presentation arguing that the charge brought by the Democratic-controlled House is an attempt to stifle speech and has no constitutional basis.
"Let's be clear, this trial is about far more than President Trump. It is about silencing and banning speech the majority does not agree with," attorney Bruce Castor said, echoing the "cancel culture" theme often voiced by Trump and his supporters.
"It is about cancelling 75 million Trump voters and criminalising political viewpoints."
Trump's team spent less than three of the 16 hours they were alloted in presenting his defence, primarily arguing that his incendiary rhetoric during a Jan 6 speech in Washington before his supporters stormed the Capitol was ordinary political speech and fell far short of the legal standard for incitement.
The trial next proceeds to a question and answer period of up to four hours ...
[ Full text ]