Islamic State's local affiliate claimed responsibility, as rising violence raises questions about Kabul's ability to secure the country. President Ghani announces day of mourning.
Gunmen stormed Afghanistan's Kabul University as it hosted an Iranian book fair, killing at least 22 people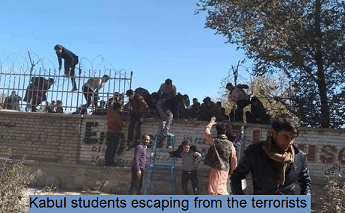 and wounding 22 others, in the second attack claimed by Islamic State in recent weeks on an educational center in the country.
Kabul, Nov. 2.– The attack in Afghanistan's capital on Monday, claimed by the the Islamic State of Iraq and Levant (ISIL, ISIS) group, came as violence surged across the country.
It was also the second time in less than two weeks that an educational institution was targeted in the capital.
Survivors described horrific scenes following the incident that unfolded around 11am (0530 GMT) when a suicide bomber blew himself up inside the campus. Two gunmen then started shooting, officials said, sending hundreds of students fleeing and scrambling over perimeter walls.
Fraidoon Ahmadi, a 23-year-old student, told AFP news agency he was in class when gunfire broke out.
(...)
[ Full text ]