Slate Magazine
Visto: 2421
Suspension of Parliament is Unlawful "because it had the purpose of stymying Parliament."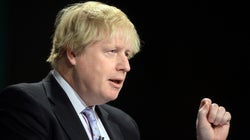 London, Sept. 11.– The latest twist in the U.K.'s battle over Brexit comes via a Scottish court, which ruled Wednesday that British Prime Minister Boris Johnson's controversial, monthlong suspension of Parliament was unlawful.
The suit brought by 75 lawmakers in response to Johnson's decision to shutter Parliament—in effect silencing the representative body in the lead-up to the next Oct. 31 Brexit deadline—does not end the legal tussle over Johnson's illiberal tactics, which are expected to go before the country's Supreme Court next week.
The three-judge panel found Johnson's decision to shut down Parliament a customary, brief occurrence called prorogation allowing a new government to set its agenda—illegal "because it had the purpose of stymying Parliament." "This was an egregious case of a clear failure to comply with generally accepted standards of behavior of public authorities," the ruling summary said ...
[ Full text ]