The Economist
Visto: 4300
More than ever, land for peace also means land for democracy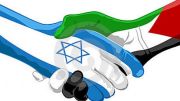 May 18.─ The victory of Israel over the Arab armies that encircled it in 1967 was so swift and absolute that, many Jews thought, the divine hand must have tipped the scales. Before the six-day war Israel had feared another Holocaust; thereafter it became an empire of sorts. Awestruck, the Jews took the holy sites of Jerusalem and the places of their biblical stories. But the land came with many Palestinians whom Israel could neither expel nor absorb. Was Providence smiling on Israel, or testing it?
For the past 50 years, Israel has tried to have it both ways: taking the land by planting Jewish settlements on it; and keeping the Palestinians unenfranchised under military occupation, denied either their own state or political equality within Israel (see our special report in this issue). Palestinians have damaged their cause through decades of indiscriminate violence. Yet their dispossession is a reproach to Israel, which is by far the stronger party and claims to be a model democracy.
Israel's "temporary" occupation has endured for half a century. The peace process that created "interim" Palestinian autonomy, due to last just five years before a final deal, has dragged on for more than 20. A Palestinian state is long overdue. Rather than resist it, Israel should be the foremost champion of the future Palestine that will be its neighbour. This is not because the intractable conflict is the worst in the Middle East or, as many once thought, the central cause of regional instability: the carnage of the civil wars in Syria, Iraq and elsewhere disproves such notions. The reason Israel must let the Palestinian people go is to preserve its own democracy.
The Trump card
Unexpectedly, there may be a new opportunity to make peace: Donald Trump wants to secure "the ultimate deal" and is due to visit the Holy Land on May 22nd, during his first foreign trip. The Israeli prime minister, Binyamin Netanyahu, appears as nervous as the Palestinian president, Mahmoud Abbas ...
[ Full text ]