Democracia Participativa
Visto: 4159
The president stressed that his goal was to end the decades-long US embargo on Cuban trade

He also took the opportunity to call out the Cuban government for human rights abuses, specifically the government's forceful efforts to silence dissent; he stressed the idea that a country is stronger when it's people are free to express themselves freely
"I can't force you to agree. But I believe that every person should be equal under the law," Obama said. "Citizens should be free to speak their mind without fear." And he ended with the motto "si se puede"—yes, we can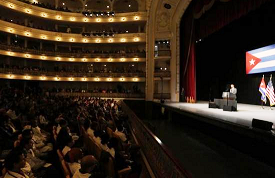 <Texto en español → AQUÍ>
Havana, March 22 (DP.net).─ President Obama spoke directly to the Cuban people and received repeated ovations from the audience in his speech in Havana, outlining a path forward for the U.S. and the island nation.
Here is a full transcript of his remarks:
«OBAMA: Thank you. Muchas gracias. Thank you very much. Please. Thank you very much.
To President Castro, the people of Cuba, thank you so much for the warm welcome that I have received, that my family have received and that our delegation has received. It is an extraordinary honor to be here today.
Before I begin, please indulge me.
JW_DISQUS_ADD_A_COMMENT
Leer más...