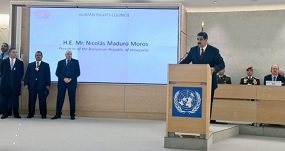 The United Nations Human Rights Council welcomed Venezuelan dictator Nicolás Maduro to deliver remarks at its annual regular session on Monday, despite the fact U.N. human rights experts have accused Maduro of committing crimes against humanity.
Geneva, Feb.22.– "Crimes against humanity" is an elaborately defined crime that includes most human rights abuses committed outside of the context of war, including murder, rape, torture, and slavery. A top investigator at the U.N.'s Office of the High Commissioner for Human Rights (OHCHR) published a report late last year that "found reasonable grounds" to accuse Maduro and his socialist regime of crimes against humanity.
The report did not stop the United Nations from allowing Venezuela to remain on the Human Rights Council. While Maduro has not been Venezuela's legitimate, constitutional head of state since January 2019, the United Nations has refused to recognize the country's true president, Juan Guaidó, as wielding power.
The Human Rights Council also hosts several other rogue states credibly accused of human rights atrocities, including China, Russia, Cuba, Libya, and Pakistan.
Maduro used his time to address the Council – about ten minutes – to condemn the United States and urge the world to "change the system of economic, capitalist, predator organizations" ...
[ Full text ]