György Schwartz, later known as George Soros, is a Hungarian Jew who was born in Budapest in 1930 and emigrated to the United Kingdom in 1947. He later became a US citizen and calls himself an atheist. He earned an MA from the London School of Economics, founded by the Fabian Society, and a PhD from the University of London. He is estimated to have a net worth of more than $9 billion. After two divorces, he married Tamiko Bolton for the third time in 2013. By his second wife, Susan Weber, he had a son named Alexander, who chairs the Open Society Foundation and the Young Global Leaders (of the World Economic Forum) and is a native of the USA. Alexander has been an active donor to the country's political movements and parties since 2012, when he established the Alexander Soros Foundation.
The threatening political influence of multi-billionaire George Soros and his son Alexander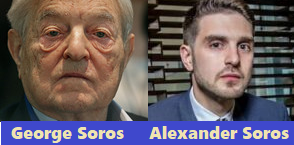 The influence of George Soros and one of his sons in US politics is worrying.
Records reviewed by the press reveal that one of multi-billionaire George Soros' sons has quietly evolved into a de facto White House "ambassador," visiting the building on his father's behalf at least 14 times since President Joe Biden took office.

Alexander Soros, a prolific Democratic fundraiser, likes to flaunt his relationships with world leaders on social media, and it has been revealed that in 2022 alone, he gained access to at least 12 meetings with government officials at the White House, including meetings with the President, according to recently updated White House visitor logs. Alexander, 37, also participated in two other meetings there in late 2021, as records show.
According to Federal Election Commission records, Alexander has contributed since 2018 around $5.7 million to Democratic campaigns and political action committees (PACs), the majority of which have socialist leanings. His largest donation was $2 million to the Senate Majority PAC, which is affiliated with Senate Majority Leader Chuck Schumer (D-NY). He has had at least nine meetings with Schumer since 2018, according to Alexander's Instagram account.
For his part, George Soros has multiple plans to "heal" the United States of its alleged sins. He spent $708 million on political donations in 2018 alone. Much of this money went to Planned Parenthood, to fight for abortion; the Brennan Center, to strike down voter ID laws; and to powerful multipurpose leftist organizations like the ACLU and John Podesta's Center for American Progress. Between 2018 and 2019, he was also a substantial donor to the "Defund the Police" and "Black Lives Matter" movements.
It was also reported by "Politico" that the group, "Democracy PAC", received $125 million and has served as Soros's campaign spending vehicle since 2019, funneling more than $80 million to other Democratic groups and candidates during the 2020 election cycle.
In addition to these donations, he gave many more millions to his main lobbying shop, the Open Society Policy Center, which was the nation's largest funding source for federal lobbying in 2019, larger than other high-profile lobbying groups. such as the National Association of Realtors, the Bureau of Pharmaceutical Research and Manufacturers of America, and the American Hospital Association, among many more.
These are facts and not speculation about how Soros manages money to buy consciences and foster a social and cultural political transformation to his liking.