Failures in Russian strategies, along with Western support for Ukraine, have hindered Putin's attempt at conquest. According to Igor Girkin, a former Russian commander, "Defeat in the war will lead Russia to catastrophic consequences." Girkin recently predicted another Ukraine offensive for Russian-occupied territory before summer. The fact is that Ukrainian forces have refused to surrender Bakhmut despite ceding some territory to the limited Russian offensive during the 60th week of the war. Meanwhile, Kyiv continues to gather war materiel for a counteroffensive, and power shifts in the Russian military suggested that President Vladimir Putin was displeased with his army's performance during a winter offensive.
What to Expect From Ukraine's Counter-Offensive
April 20.– Predicting the course of a war is never simple—but the leak of U.S. defense documents made forecasting the Ukrainian war even more complicated. The chaos triggered by the leak even led Ukrainian leaders to shake up their battlefield plans, according to CNN.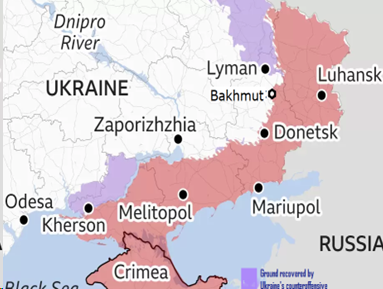 Ukraine front lines 4/20/23
But spring has sprung, and on the battlefields of Ukraine, that means it may soon be time for a long-awaited counter-offensive. While Ukrainian President Volodymyr Zelensky indicated that his country needs weapons before it can attack, other leaders have suggested it's nearing time to strike—especially as a weak Russian advance has depleted Russian forces.
(...)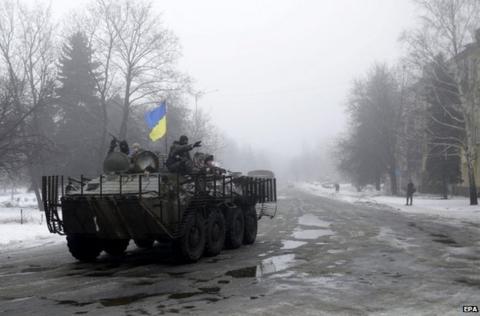 Ukrainian military leaders have suggested that the counter-offensive may press south. In February, Vadym Skibitskiy, the deputy head of the military's intelligence directorate, said Ukraine is planning to "drive a wedge into the Russian front in the south—between Crimea and the Russian mainland."

Russia appears to be particularly worried about one scenario, says Barros: the risk that Ukraine will attack Zaporizhzhia oblast. Satellite imagery shows that Russian forces fortified the area to protect logistical lines, including obstacles designed to block tanks.
(...)

[ Full text ]