A conversation with Jakub Kalensky, Senior analyst at the European Centre of Excellence for Countering Hybrid Threats. John Glenn, senior director of the International Forum for Democratic Studies, and Adam Fivenson, a senior program officer at the International Forum focusing on information space integrity, cohost the conversation.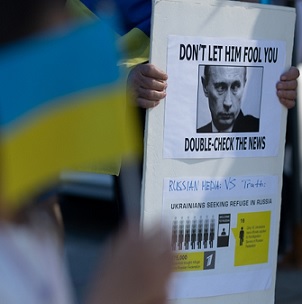 Like other autocratic actors, the Kremlin deploys disinformation to confuse the public, attract allies, escape accountability, and strengthen its hold on power.
Yet a documented intensification of disinformation operations around the invasion of Ukraine has failed to sway Ukrainians, whose overwhelming support for self-determination has only risen since the full-scale invasion began.
Jacub Kalenský discusses Ukrainian resilience against Russian disinformation and his ideas for how defenders of democracy around the world can retake the initiative in the information space.
[ Audio: full conversation with Jacub Kalensky ]