The records reveal information that was not previously known, including loans he gave to his kids, earnings from book royalties and Melania's modeling work, and the percentage of his presidential salary that was donated to charitable causes.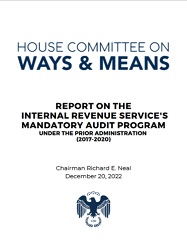 Washington, DC, Dec.30 (DP.net).– Six years' worth of former president Donald Trump and his wife Melania's combined tax returns were disclosed last Friday by the Democrat-controlled House Ways and Means Committee.
Trump fought for years to prevent his returns from being released to the public, but the Supreme Court in November declined to block the release to the Democratic-led committee.
The House committee examined six years of Trump's personal returns, as well as those of eight of his businesses. While the committee earlier published a report and some documents that revealed details about the Trumps' income and taxes paid, the panel on Dec. 30 made the full set of tax documents public. However, according to the law and to IRS regulations they may be released by court order to investigators but not to the public at large.
In order to address the current violation of these privacy laws and regulations, the House approved a measure that would codify the mandatory presidential audit policy into law with stricter requirements, such as "disclosure of certain audit information and related returns in a timely manner," and a requirement that the IRS issue an initial report within 90 days following the submission of a president's tax returns.
The complete assortment of tax return documents, which cover the years 2015 to 2020, consists of over 2,700 pages of individual returns for Trump and Melania and over 3,000 pages for the former president's businesses.
Key information found in the tax returns includes the fact that the Trumps reported negative income in four of the six years covered by the documentation and paid around $1.8 million in taxes. In 2015, when Trump began campaigning for president, he paid $641,931 in federal income taxes. "He went on to pay $750 in 2016 and 2017, nearly $1 million in 2018, $133,445 in 2019, and nothing in 2020," according to the AP. Trump's family of enterprises used reported losses, foreign tax credits, deductions, charitable donations, and many other financial IRS regulations to great effect in offsetting taxation on profits. 
The Committee asserts that while Trump was in office, the IRS undertook ineffective audits. However, there is no proof that the Trump administration and the IRS colluded, and there are no records of the previous president objecting to audits of his tax returns. The IRS has an internal policy that mandates audits of presidents and vice presidents. Representatives for President Joe Biden and former President Barack Obama confirmed that each was audited for every year in office.
The release of the documents prompted a sharp rebuke from Trump, who warned that the move sets a dangerous precedent. "The Democrats should have never done it, the supreme court should have never approved it, and it's going to lead to horrible things for so many people," Trump said in a statement to media outlets.
The redacted versions of Trump's tax returns were released as a series of PDF files and they are available to the public HERE
Read the "Report on the Internal Revenue Service's mandatory audit program under the prior administration (2017-2020)" HERE