The Parliamentary Assembly of the Council of Europe (PACE) is the parliamentary arm of the Council of Europe, a 46-nation international organisation dedicated to upholding human rights, democracy and the rule of law. The Assembly is made up of 306 members drawn from the national parliaments of the Council of Europe's member states. The Parliamentary Assembly meets four times a year in Strasbourg, France. The session lasts four to five days. PACE will meet at Strasbourg on Monday, 10 October 2022 until Friday, 14 October 2022.
.
Ukrainian President Volodymyr Zelensky to address PACE's Autumn plenary session.
Strasbourg. Oct. 8: Ref. DC 203(2022).– Ukrainian President Volodymyr Zelenskyy is due to address the Parliamentary Assembly of the Council of Europe (PACE) by videoconference (Thursday 13 October at 10 a.m.) date and time to be confirmed) during its Autumn plenary session.
There will also be addresses by the President of Ireland, Michael D. Higgins, and the President of the Swiss Confederation, Ignazio Cassis, as well as the Prime Minister of Albania, Edi Rama.
The 2022 Václav Havel Human Rights Prize, which honours outstanding human rights defenders, will be awarded in a special ceremony, with the overall winner to be selected from among three shortlisted candidates (Vladimir Kara-Murza, Ukraine 5 AM Coalition and Rainbow Coalition).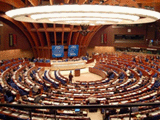 Current affairs debates have been requested on "Europe half a year after the start of Russia's war of aggression against Ukraine", "Food security in Europe: grain exports through Ukrainian ports" and "The military hostilities between Armenia and Azerbaijan".
Debates are also foreseen on a European perspective for the Western Balkans, countering Islamophobia or anti-Muslim racism, vaccine discrimination, and the impact of Brexit on human rights on the island of Ireland. The Assembly is also due to discuss the honouring of obligations and commitments by Türkiye, Hungary and Romania.
Thomas Byrne, Ireland's European Affairs Minister, will present the communication from the Committee of Ministers in the framework of the Irish Presidency of the Council of Europe. Secretary General Marija Pejčinović Burić will hold the usual question time with PACE members.
The Assembly is also due to debate reports on the misuse of the Schengen Information system by States as a politically motivated sanction, discrimination against women in sport, safe third countries for asylum seekers, illegal measures of migration management in the context of pushbacks on land and sea, and revisiting labour rights.
The Assembly will decide its final agenda on the first day of the session.
Contact: Estelle Steiner, tel. +33 3 88 41 33 35