Stephen Kotkin is one of our most profound and prodigious scholars of Russian history. His masterwork is a biography of Josef Stalin. So far he has published two volumes––"Paradoxes of Power, 1878-1928," which was a finalist for the Pulitzer Prize, and "Waiting for Hitler, 1929-1941." A third volume will take the story through the Second World War; Stalin's death, in 1953; and the totalitarian legacy that shaped the remainder of the Soviet experience. Taking advantage of long-forbidden archives in Moscow and beyond ...
An analysis of the dictatorial and expansionist policy of Vladimir Putin
David Remnick.– Earlier this week, I spoke with Kotkin about Putin, the invasion of Ukraine, the American and European response, and what comes next:
Question: We've been hearing voices both past and present saying that the reason for what has happened is, as George Kennan put it, the strategic blunder of the eastward expansion of NATO. The great-power realist-school historian John Mearsheimer insists that a great deal of the blame for what we're witnessing must go to the United States. I thought we'd begin with your analysis of that argument.
Stephen Kotkin: I have only the greatest respect for George Kennan. John Mearsheimer is a giant of a scholar. But I respectfully disagree. The problem with their argument is that it assumes that, had NATO not expanded, Russia wouldn't be the same or very likely close to what it is today. What we have today in Russia is not some kind of surprise. It's not some kind of deviation from a historical pattern. Way before NATO existed—in the nineteenth century—Russia looked like this: it had an autocrat. It had repression. It had militarism. It had suspicion of foreigners and the West. This is a Russia that we know, and it's not a Russia that arrived yesterday or in the nineteen-nineties. It's not a response to the actions of the West. There are internal processes in Russia that account for where we are today.
I would even go further. I would say that NATO expansion has put us in a better place to deal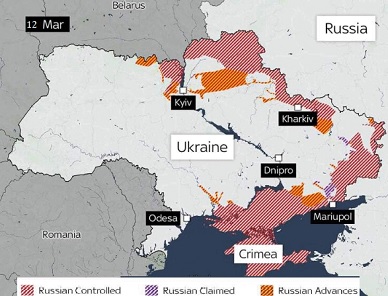 with this historical pattern in Russia that we're seeing again today. Where would we be now if Poland or the Baltic states were not in NATO? They would be in the same limbo, in the same world that Ukraine is in. In fact, Poland's membership in NATO stiffened NATO's spine. Unlike some of the other NATO countries, Poland has contested Russia many times over. In fact, you can argue that Russia broke its teeth twice on Poland: first in the nineteenth century, leading up to the twentieth century, and again at the end of the Soviet Union, with Solidarity. So George Kennan was an unbelievably important scholar and practitioner—the greatest Russia expert who ever lived—but I just don't think blaming the West is the right analysis for where we are.
Q: What are its special characteristics, and why would those special characteristics lead it to want to invade Ukraine, which seems a singularly stupid, let alone brutal, act?
SK: Yes, well, war usually is a miscalculation. It's based upon assumptions that don't pan out, things that you believe to be true or want to be true. Of course, this isn't the same regime as Stalin's or the tsar's, either. There's been tremendous change: urbanization, higher levels of education. The world outside has been transformed. And that's the shock. The shock is that so much has changed, and yet we're still seeing this pattern that they can't escape from.
You have an autocrat in power—or even now a despot—making decisions completely by himself. Does he get input from others? Perhaps. We don't know what the inside looks like. Does he pay attention? We don't know. Do they bring him information that he doesn't want to hear? That seems unlikely. Does he think he knows better than everybody else? That seems highly likely. Does he believe his own propaganda or his own conspiratorial view of the world? That also seems likely. These are surmises. Very few people talk to Putin, either Russians on the inside or foreigners.
And so we think, but we don't know, that he is not getting the full gamut of information. He's getting what he wants to hear.
(...)
It turned out that the Ukrainian people are brave; they are willing to resist and die for their country. Evidently, Putin didn't believe that. But it turned out that "the television President," Zelensky, who had a twenty-five-per-cent approval rating before the war—which was fully deserved, because he couldn't govern—now it turns out that he has a ninety-one-per-cent approval rating. It turned out that he's got cojones. He's unbelievably brave. Moreover, having a TV-production company run a country is not a good idea in peacetime, but in wartime, when information war is one of your goals, it's a fabulous thing to have in place.
The biggest surprise for Putin, of course, was the West. All the nonsense about how the West is decadent, the West is over, the West is in decline, how it's a multipolar world and the rise of China, et cetera: all of that turned out to be bunk. The courage of the Ukrainian people and the bravery and smarts of the Ukrainian government, and its President, Zelensky, galvanized the West to remember who it was. And that shocked Putin! That's the miscalculation.
Q: How do you define "the West"?
SK: The West is a series of institutions and values. The West is not a geographical place. Russia is European, but not Western. Japan is Western, but not European. "Western" means rule of law, democracy, private property, open markets, respect for the individual, diversity, pluralism of opinion, and all the other freedoms that we enjoy, which we sometimes take for granted. We sometimes forget where they came from. But that's what the West is. And that West, which we expanded in the nineties, in my view properly, through the expansion of the European Union and NATO, is revived now, and it has stood up to Vladimir Putin in a way that neither he nor Xi Jinping expected.
(...)
[ Full text ]