Democracia Participativa
Visto: 661
Many do not pay heed to global warming. They even deny that there is such global warming - "Look at the great snowfall! Look at how cold it is!", they say in winter. Others flaunt their scientific wisdom and proclaim that warming is natural as part of the planet's climate cycles. Indeed, there are climatic cycles and there always have been: ice ages and heat ages (that we may call in our times the "greenhouse age"); and it is even known that there have been mini cycles in the midst of the respective ages.
Natural climatic cycles take many thousands of years to develop and mini cycles take many hundreds of years to develop. What we are experiencing is a global warming that is taking decades and not centuries or millennia. Our civilization cannot cope with such an accelerated change.
And we are responsible for the tremendous acceleration of the natural cycle due to the acute mistreatment to our environment promoted by the abuse and neglect of human beings who are also causing progressive deforestation and the resulting desertification that is swallowing huge territories.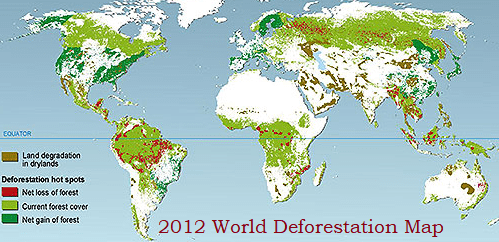 On the left we have a map that shows (in white) more than half the Earth's surface covered by deserts or whole regions that are experiencing increasing aridity to become deserts. And this image is from 8 years ago. It is much worse now. In dark green we see some small sectors where reforestation efforts were being made, but they are not constant to at least partially recover some forests. The places where forests are being destroyed are highlighted in red.
Add a comment
Leer más...