The very real threat of future socialist or theocratic dictatorships
Five months after the Arab uprisings began, it is now possible to glimpse the likely outcomes for the region. These are decidedly mixed and ominous.
A pressure group called the Muslim Brotherhood has had a growing lead in the Egyptian protest movement and their presence is highly influential in other regions of North Africa, including Libya. In addition, Hamas, a well-known extremist movement already in power in Palestine, is one of the more radical outgrowths of this group.
The probability of a pseudo democratic-Islamist tyranny –similar or worse than Iranian theocracy– emerging from the originally peaceful protests turned into armed rebellion is a real threat to stability in the Middle East, to the maintenance of peace in the region and the world and to the safety of millions of people in that region and beyond.
On the other hand, a more optimistic view sees in the popular overthrow of autocratic leaders in Tunisia and Egypt raised hopes of a widespread shift towards open and pluralistic regimes, ushering-in economic change and ending generations of relative stagnation in the Arab world. However, the cultural and political reality prevailing in the region shows that prospects for a comprehensive democratic breakthrough are unfavorable, despite the considerable and real enough advantages and economic gains possible, were them to take place.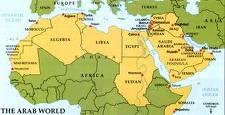 This week, the Economist Intelligence Unit "puts only a 20% probability on this outcome. Equally likely is a return to autocracy and repression. The most likely outcome of all, with a 60% probability, is a shift in most countries towards some form of hybrid regime, with political change failing to deliver genuine accountability or popular participation in government decision-making."
This is an appalling view, but realistic. Democracy is not to be expected.
Read more ...