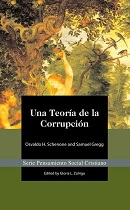 Oswaldo Schenone & Samuel Gregg
Acton Institute, 2004
Versión en español disponible en formato digital
English version available in many digital formats
Una excelente obra publicada por el Acton Institute a muy bajo precio, que puede obtenerse tanto en inglés como en español.
An excellent work published by the Acton Institute at very low price, available either in English or Spanish. < See English review below >
No hay mayor flagelo que afecte el correcto funcionamiento de cualquier sistema economico que la corrupcion. Tragicamente, la corrupcion es perversa en paises en vias de desarrollo. Con frecuencia se la encuentra en situaciones en las que los funcionarios publicos demoran la publicacion o el proceso de los documentos salvo que se les ofrezca una compensacion monetaria. Se encuentra tipicamente en la gestion deficiente y la apropiacion de presupuestos publicos en beneficio personal de los lideres politicos. La corrupcion puede encontrarse tambien en las transacciones individuales orinarias bajo la forma de fraude, precios extorsivos y crimen organizado. Los efectos de la corrupcion tienen tambien ramificaciones legales, con frecuencia socavoando el Estado de Derecho. Pero fundamentalmente la corrupcion se encuadra en el campo moral porque es un sintoma del pecado original que afecta el corazon de cada persona. Este trabajo ofrece un examen teologico y economico que invita a cuestionar muchos de los suuestos aceptados acriticamente sobre la corrupcion.
There is no greater scourge that affects the proper functioning of any economic system than corruption. Tragically, corruption is pervasive in developing nations. It is found often on the part of public officials who delay the issuance or processing of public documents unless a monetary inducement is offered. It is found in the typical mismanagement and appropriation of national budgets toward the personal gain of political leaders. And it is found in ordinary individual transactions in the form of fraud, price gouging, and organized crime. The effects of corruption also have legal ramifications, often undermining the rule of law. This monograph offers a theological and economic examination that puts into question many of the uncritically accepted assumptions held about corruption.