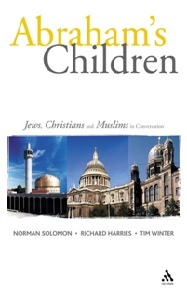 Richard Harries was Bishop of Oxford and is a popular speaker and broadcaster.
Rabbi Dr Norman Solomon is a member of the Oxford University Unit for Teaching and Research in Hebrew and Jewish Studies., and was previously Director of the Centre for the Study of Judaism and Jewish-Christian Relations in... Read more
Tim Winter is Lecturer in Islamic Studies at University of Cambridge, UK.
| | |
| --- | --- |
| Published: | 05-30-2006 |
| Format: | Paperback |
| Extent: | 354 pages |
| ISBN: | 9780567081612 |
Abraham's Children brings together
essays by leading scholars of each faith
to address key issues for the faiths
and to collaboratively identify common ground
and pose challenges for the future.
It will inspire readers in the process of inter-faith dialogue,
contribute clearly to vital religious issues
of contemporary world concern
and help readers to understand faiths
that are different from their own.
Perhaps the most seminal story in the history of "Western civilization" is the tale of an ancient nomadic herdsman from Mesopotamia whose relationship with a mysterious and powerful supernatural being is said to have changed the course of human history. The herdsman's name is Abraham ("Avraham" in transliterated Hebrew and "Ibrahim" in transliterated Arabic), and for centuries people known as either "Jews," "Christians," or "Muslims" have understood themselves to be his literal and/or metaphorical "children." But what does it mean to be "Abraham's children"?
"This book compares Judaism, Christianity, and Islam using seven common themes which are equally relevant to each tradition. Provoking critical thinking, this text addresses the cultural framework of religious meanings and explores the similarities and differences among Judaism, Christianity, and Islam as it explains the ongoing process of interpretation in each religion. It provides the reader with a solid foundation of knowledge on the various themes found in the book. This user-friendly book makes it easy to comprehend each religion and allows the reader to notice the relations between the three Abrahamic traditions. It can help clear up a lot of misconceptions that one has regarding all three religions."
Br. Joe Roccasalva, O.S.A.