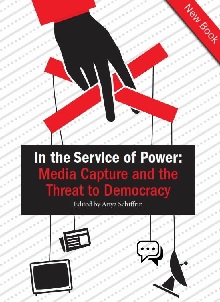 CIMA/NED, 2017
Pages: 164
ISBN 978-0-9818254-3-4
In this new book, an outstanding group of scholars from around the world explore the rising global trend of threats to media autonomy. Curated by the Center for International Media Assistance (CIMA), the book explores international political and commercial media actors, as well as "prominent leaders of organized crime," who have seized control of traditional media outlets and oftentimes aligned them with their corporate interests.
This collection of essays looks at the state of the mass media around the world with an emphasis on "media capture", which refers to vested interests, and not just the government, using the media for purposes other than their main function of providing information that can lead to action by other agents in society.
In many countries around the world today, political transitions and the rise of digital technology have changed the way governments influence the media. With some exceptions, pre-publication censorship and pre-approval of news and information is mostly a thing of the past. Political transitions in many countries have changed mechanisms of control.
As CIMA's book notes, state-sponsored censorship and restrictions on open internet access denies citizens' their right to alternative sources of information as well. To combat these complex challenges, Mark Nelson, Senior Director of CIMA, calls for an increase in donor funding for independent media, further regulation supporting freedom of expression, and effective governance of the global information technologies that play a crucial role in the dissemination of news online. Click here to read the full book online for free.