Belavezha Accords (Russian: Беловежские соглашения, Belarusian: Белавежскія пагадненьні) is the agreement signed by the presidents of Russia, Ukraine and Belarus which declared the Soviet Union effectively dissolved and established the Commonwealth of Independent States in its place. The agreement was signed at the state dacha near Viskuli in Belovezhskaya Pushcha on Dec. 8, 1991. Four days later the Supreme Soviet of the Russian SFSR ratified the accords on behalf of Russia and at the same time denounced the 1922 Treaty on the Creation of the Soviet Union.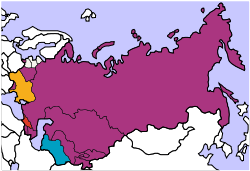 Map of the Commonwealth of Independent States (CIS)
However, for thirteen more days a Soviet Federal Government continued to exist, and Mikhail Gorbachev continued to hold control over the Kremlin as President of the Soviet Union. This ended in the early hours of December 25, 1991, when Mikhail Gorbachev resigned as the President of the Soviet Union and turned control of the Kremlin and the remaining powers of his office over to the office of the president of Russia, Boris Yeltsin, thus accepting termination of the Soviet Federal Government and the dissolution of the Soviet Union. Gorbachev's televised resignation speech and the subsequent lowering of the flag of the Soviet Union and hoisting of the flag of Russia on the flagpole in front of the Kremlin was a historic event broadcast around the world.
Also on December 25, 1991, the Russian SFSR, now no longer a sub-national entity of the Soviet Union but a sovereign Nation State, adopted a law renaming itself Russian Federation.

Flag of the CIS
On 21 December 1991, the leaders of eight additional Soviet Republics – Armenia, Azerbaijan, Kazakhstan, Kyrgyzstan, Moldova, Turkmenistan, Tajikistan, and Uzbekistan – had already agreed to join the new Commonwealth of Independent States (CIS), thus bringing the number of participating countries to 11. However, Turkmenistan (in blue in the map above) has not ratified the charter and changed its CIS standing to associate member as of 26 August 2005 in order to be consistent with its UN-recognized international neutrality status. Ukraine (in orange in the map) did not to ratify the CIS Charter and is not a member of the CIS in spite of being one of the three founding countries and of its previous ratification of the Creation Agreement in December 1991.
Note: There is no text available in the Internet of the original Belavezha Accords document.