Authorities in Viet Nam must immediately release four activists jailed this week for spreading anti-State propaganda, the UN human rights office, OHCHR, said on Friday: We call for the immediate release of 4 rights defenders convicted of spreading anti-State propaganda and of all those arbitrarily detained for exercising their rights to freedom of expression & opinion. This has chilling effects on media freedom

:  http://ow.ly/RuCh50HcXG
United Nations, Dec.17.– Over a three-day period, prominent human rights defenders Trinh Ba Phoung, Nguyen Thi Tam, Do Nam Trung, and independent author Pham Doan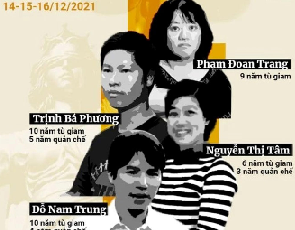 Trang, were sentenced to up to a decade in jail, and five years on probation. 
Silence and intimidate
Spokesperson Ravina Shamdasani said OHCHR was "deeply troubled" by the harsh sentencing of the human rights and land rights defenders, who were charged under articles 88 and 117 of Viet Nam's Criminal Code.
Meanwhile, journalist Le Trong Hung, who had announced his intention to run for political office as an independent, is facing trial on 31 December on similar charges.
"We urge the authorities in Viet Nam to immediately release all these individuals as well as the many others arbitrarily detained for exercising their rights to freedom of opinion and expression," said Ms. Shamdasani, speaking in Geneva.
(...)
[ Full text ]