The Epoch Times
Visto: 1391
Black Lives Matter demonstrators surrounded them with aggressive lynching intent.

"People Who Accosted Me in DC Were Trying to Kill Me".– Sen. Rand Paul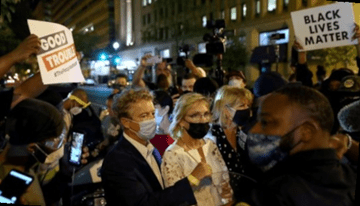 Washington DC, Aug.28.– An angry mob in the vicinity of the White House, Washington DC, surrounded on Friday Sen. Rand Paul (R-Ky.) and his wife as well as other lawmakers, including state Georgia Rep. Vernon Jones, a Democrat who supports President Donald Trump.
Video footage showed Paul, who also has a history of being brutally assaulted by his democrat neighbor several years ago, being protected in this instance from the crowd by police officers.
Paul and several women stood in place for at least 5 minutes until more officers arrived.
Police began fending off the demonstrators so the small group could move. Demonstrators shouted at the senator, issuing threats and calling on him to say the name of Breonna Taylor, a woman shot by police officers. "White silence is violence!" they told Paul, who introduced the "Justice for Breonna Taylor Act" last month.
After several minutes of walking, Paul and the women made it to a hotel.
"Just got attacked by an angry mob of over 100, one block away from the White House," Paul wrote in a tweet ...
[ Full text ]