Slate Magazine
Visto: 2541
A Nobel Peace Prize is no guarantee of future performance.

In Oslo on Tuesday, Ethiopia's reformist prime minister, Abiy Ahmed, was awarded the prestigious prize amid criticism that the recognition was premature: Ethiopia's transition to democracy is far from complete and ethnic violence and dislocation are prevalent in his country.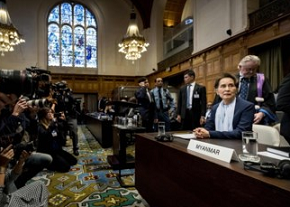 The Hague, Dec.11.– As if to underline that Nobel laureates are as capable of violence and cynicism as any other leader, 1991 winner Aung San Suu Kyi, now the leader of the government of Myanmar, also traveled to Europe this week to appear before a court in The Hague and defend her government against charges of genocide.
As a campaigner for democracy and imprisoned dissident, Suu Kyi became a global icon of human rights and democracy in the '90s.
But in recent years, former supporters and admirers have watched, stunned, as she has stood lockstep with the military leaders she once fought against, even with overwhelming evidence that these leaders are carrying out a genocide that has killed more than 10,000 members of the Muslim Rohingya ethnic group and sent hundreds of thousands fleeing abroad.
Suu Kyi sat impassively on Tuesday in the International Court of Justice on Tuesday as witnesses described gruesome scenes of mass rape, the stabbing of children, and families being burned alive. On Wednesday, she took the stand. She called the charge of genocide "misleading" and described the military operation in Myanmar's Western Rakhine state as a "clearance operation" launched in response to attacks by Rohingya militants on police.
For a time, as evidence of the genocide grew, some international supporters gave her the benefit of the doubt. While Myanmar elected its first civilian government in 2016, the military remained a powerful and independent institution ...
[ Full text ]