Gerardo E. Martínez-Solanas
Visto: 2654
The many sweetened forecasts of a Chinese government advancing towards a democratic 21st century, with a government that is gradually more respectful of human rights, finally turned into naive mirages that dissolve before the firm dictatorship of Xi Jinping, who has just consolidated his indefinite permanence in power.
The Chinese reality is a fierce dictatorship with a capitalist varnish, in a pseudo Communist system that derives into a vertical power machine that emulates Nazi and Mafia methods of control and repression.
This dictatorship extends beyond its ethnic and demographic boundaries to forcibly submit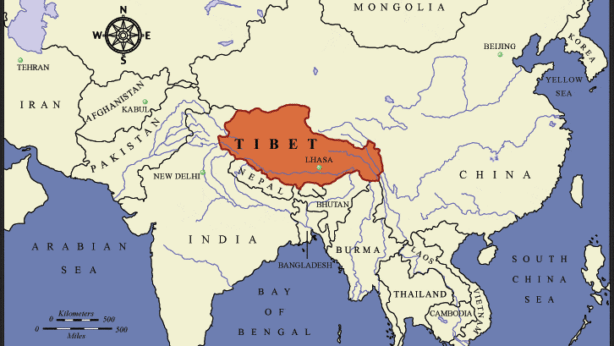 other peoples, as has happened to the Tibetan people since 1959, crushed by the Chinese military power and suffering an overwhelming ethnic disintegration.
The Dalai Lama, spiritual leader of Tibet, or Tencho Gyatso, a prominent Tibetan in exile, cannot travel to their homeland. But they are not alone facing these restrictions. Sadly, it is nearly impossible for Tibetans to make that trip from abroad to Tibet or to travel freely from Tibet to other countries due to the Chinese government's severe restrictions on who is allowed to visit their country or who is allowed to depart from their country, even temporarily.
Chinese Communist Party officials not only deny the people of Tibet to travel abroad but they are prevented to travel freely within Tibet itself. Tibetans are in fact prisoners at "the roof of the World", as Tibet is also known. China keeps Tibetans locked up, and visitors locked out, in order to prevent the World from knowing the truth about the brutallity and failures of its colonialist policies in Tibet.
Chinese "Communist" Party leaders constantly tell the World that the Dalai Lama is the devil and Tibetans are better off now than they were before under the "retrograde" Lama's government in existence for many centuries before the bloody Chinese invasion.
Tibetans in exile are hoping that Americans are granted access to peacefully visit their country and see the truth by themselves. Accordingly, they are supporting the "Reciprocal Access to Tibet Act" (S.821 & H.R.1872), a bipartisan legislation aiming to increase Americans' ability to travel and visit Tibet in reciprocity to granting Chinese government officials, journalists, NGO workers, and private chinese citizens access to the United States.
Would the US citizen or resident reading this note express his or her solidarity with the Tibetan people, writting a letter or an Email to their Senator or House Representative in support of this bill? In addition, you may use a few more minutes of your time in favor of this opressed people by writing a note of support as well to the Honorable Senator John Cornyn, Chairman of the Senate Judiciary Committee's Subcommittee on Border Security and Immigration, and/or to the Honorable Representative Raúl Labrador, Chairman of the House Judiciary Committee's Subcommittee on Immigration and Border Security.
Just tell them: "I urge you to bring the Reciprocal Access to Tibet Act up for review and mark-up in your subcommittee so it can move on toward pasage by the full Senate [or] the full House of Representatives".
Freedom is a good seed that may spread to all continents if it is well fertilized with our solidarity to causes such as this one.