This summary refers to "cases" and number of victims, however, it is, above all, about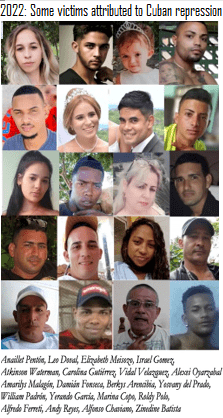 human beings of flesh and bone. Each life lost is a story of truncated hopes, projects, and plans, of the times stolen from family and friends, and of profound loss and sorrow for the loved ones left behind. See the faces of some of the victims of 2022 in this collage.
See the report for the year 2022, with highlights below and the update of our work-in-progress on Dec. 31, 2022. This work seeks to end impunity for Cuba's dictatorship and promote a democracy under the rule of law that can guarantee security, freedom, and justice for all Cubans.
All documented cases can be found in our database of deaths and disappearances; individual records include known details, the sources of the information and, in certain cases, photographs.
116 deaths or disappearances documented in 2022
12 extrajudicial killings, including 8 massacred for attempting to flee Cuba by sea
72 more fleeing Cuba or seeking asylum
2 in protest hunger strikes in prison
3 from medical conditions/denial of medical care in prison
5 suicides: 1 prisoner, 3 in mandatory military service, 1 veteran
5 "internationalist" workers in servitude: 2 in Venezuela, 1 in Guatemala, 1 Panama, 1 in Mozambique
17 for gross or criminal negligence
At least 191 more reported victims in 2022
There are credible reports of at least 191 more fatalities in attempts to leave Cuba or seek asylum plus even more instances for which a victim count is unavailable. Their names are unknown but our annual report lists these events with the number of victims and respective dates.
The sum of documented and reported cases brings the total number of known victims in 2022 to at least 307. The 263 victims among asylum-seekers (at sea or of medical conditions, murdered, or accidentally in third countries) represent a very steep increase from the reported 62 victims in 2021, none in 2020, 2 in 2019, 4 in 2018, none in 2017, and 89 in the seven years from 2010 to 2016 (numbers available per year in the database.)
Actual deaths are considerably higher
Many more deaths for which the Cuban regime is responsible are not documented for diverse reasons. See details on how this work is conducted.
[ Full text ]