Not only in Lebanon, Syria, Iraq or Afghanistan, but also in India, Pakistan, Iran, Indonesia, Central Asia, North Korea and China.
A total of 24 Christians are known to be prisoners of conscience because of their beliefs. They are distributed throughout Asia & Africa as follows:
China (4)
Eritrea (5)
Iran (13)
North Korea (1)
Pakistan (1)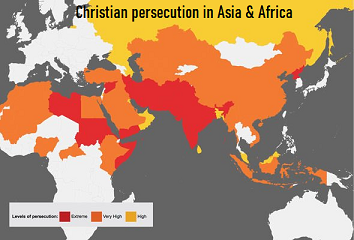 Those are the known and confirmed prisoners of conscience in these countries jailed because they are practicing Christians, but there are many more; they are listed (with their photos) HERE and readers may contribute to campaigns to free them or save them from execution with donations, writing letters or signing petitions.
Hundreds more have been killed by the mobs and/or the authorities in North Korea, India, Pakistan and Iraq. Thousands have been killed in Lebanon, Syria, Iraq and Afghanistan, and tens of thousands have been forced to flee from all those countries in the first 20 years of this century.
Information from other places and countries is quite more difficult to obtain. Christian are viewed as extremists in some predominantly Muslim countries of Central Asia. Knowing they could receive massive fines and be detained for "illegal religious gatherings", Christians must be creative in practicing their faith.
In Indonesia, Islamists are demanding many Church closures. In fact, several long-established churches have already been forced to shut down. Facing this problem, members of the Pillar Asih Protestant Church in the Bekasi City area had been using an empty building for worship until Muslim neighbors noticed and asked police to force them to stop meeting. And this is just one example of many.
In India, the Rashtriya Swayamsevak Sangh (RSS) political party promotes Hindutva ideology throughout the country, advocating for a purely Hindu nation. Therefore, they do not hide in their goal to erradicate Christianity. In 2014, a longtime RSS member, Narendra Modi, was elected Prime Minister of India, and he was reelected in a landslide victory in 2019. Since his election, RSS membership has increased by 20% and RSS informants living in nearly every village routinely report on the activities of Christians and other non-Hindus.
It is the obligation of every person of good will to let the world know what is happening. The wicked, torturers, and persecutors prefer to work in the shadows and suppress the truth. It must be proclaimed throughout the length and breadth of the planet!