The World Movement for Democracy reports the latest state of global freedom study
36% of the world population is not free and 24% is only partially free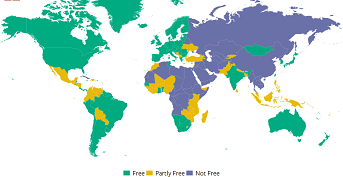 Washington, Feb.18.─ Freedom House has published its latest report on the state of global freedom titled "Anxious Dictators, Wavering Democracies." The report reveals the continuing world-wide slide of political rights and civil liberties, as authoritarian leaders continue to crack down on civil society and dissent.
Over the last decade, the most significant global reversals have been in freedom of expression and the rule of law. In Azerbaijan, there has been little change in the regime's harsh repression of activists, journalists, and human rights defenders, many of which remain imprisoned on politically-motivated charges. In the case of Venezuela, the opposition has triumphed in recent legislative elections, but a well-crafted political strategy is necessary to enact reforms and pass amnesty for political prisoners, in light of likely resistance from the other branches of government. The World Movement's #SetThemFree campaign continues to raise public awareness of the dire rights situation in both countries and to encourage public actions on behalf of political prisoners.
Learn more about the current state of freedom of expression and the rule of law.