Upholding Dignity during Distress.
It is better to teach how to fish
than to give away the fish.
Bakau (The Gambia), Oct.30 (DP.net).– Although The Gambia is a predominantly Muslim country, Christian missions are very active in providing assistance and training to its inhabitants, especially in rural areas. Catholics in particular have proclaimed October as a "Mission Month", and prayer, sacrifice, and financial contributions are exhorted all over the World in favor of these missions. Este país de 2,400,000 habitantes cuenta con más de 130,000 cristianos, 50,000 de los cuales son católicos.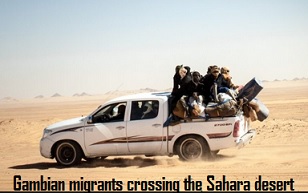 Joblessness in The Gambia has significantly contributed to the number of people migrating internationally –especially young men– often with disastrous effects. Those who are not successful face arrest, abuse and exploitation during the harrowing journey.
Among many other lay people who enthusiastically collaborate with missionaries to assist those in need, Sam Jarju is a laudable example. He is a member of a Catholic youth group in The Gambia devoted to assisting young people in their community understand dire migration risks. Sam advocates for young Gambians to stay in their home country and educates young people on exactly what serious risks they will face along the perilous way if they migrate.
Catholic and other Christian missionaries are providing an adequate response to this crisis – a problem not limited to The Gambia but causing serious tensions and imbalances in other parts of
Missionary providing assistancethe world. Missions in The Gambia are planting churches, educating and caring for needy children, and promoting agricultural development. They seek assistance for their training programs, equipment for their schools –they have increased the literacy level of the communities in which they work–, including projects such as establishing a poultry project, etc.
A holistic, cross-border approach is addressing the economic and social motivations for migration, shifting perceptions and protecting people who chose to migrate, no matter what. This cross-border approach encompasses other bordering countries such as Senegal, Mali, and Niger in this region of Africa.