The UN is launching a new online tool, "The 10 Principles Implementation Checklist," that will help activists score, and assess how closely their public authorities follow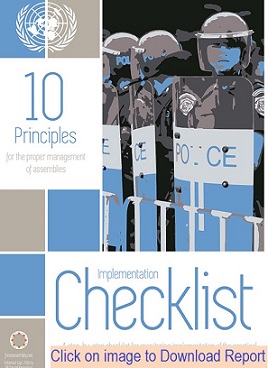 international law while managing public assemblies. The checklist is built on the "10 Guiding Principles" highlighted in the UN Special Rapporteur's March 2016 report, "Practical Recommendations for the Management of Assemblies" (A/HRC/31/66). The report was a collaboration between Maina Kiai, the UN Special Rapporteur on the rights to freedom of peaceful assembly and of association and Christof Heyns, Special Rapporteur on extrajudicial, summary or arbitrary executions. The checklist provides actionable strategies for governments to integrate human rights law into their management of public assemblies.
The checklist contains 100 indicators – categorized under 10 overarching principles – relating to the implementation of the recommendations made by the Special Rapporteurs. These indicators take the entire spectrum of 'managing an assembly' into account and include the activities and measures before, during and after an assembly or protest takes place.
Civil society members are encouraged to share and tweet the score to the UN Special Rapporteur sending an image of youe score sheet by e-mail to info@freeassembly.net or using the Twitter handle: @MainaKiai_UNSR. Maina Kiai is currently serving as a member of the World Movement for Democracy's Steering Committee.
Add a comment