Brexit has soured relations between Britain and Scotland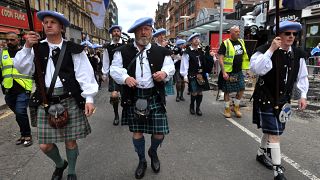 Glasgow, May 6.– Tens of thousands of people took to the streets of Glasgow - the largest city in Scotland - on Saturday (May 4) to demand a second referendum on independence from the United Kingdom as polls suggest support for secession is at a peak of the past four years.
Organisers said they gathered a record 100,000 protesters, just ten days after Scottish First Minister Nicola Sturgeon promised to hold an independence referendum before May 2021, without permission from London.
Reached by Euronews, Scotland's police said they counted an estimated "30 to 35,000" protesters in the Glasgow Green area, where the demonstration was taking place. No incidents were reported, police said.
Scotland, England's political partner for more than 300 years, rejected independence by 55 to 45 per cent in a 2014 referendum.
But Brexit has soured relations between north and south ...
[ Full text ]